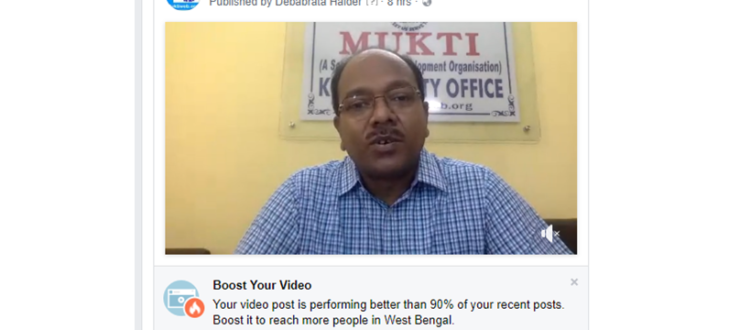 Mukti's second Digital Town Hall was informative
Mukti's 2nd digital town hall meeting via Facebook LIVE was held on 5th May 2018. Mukti secretary Mr. Asis Halder welcome the attendees to the meeting. He provided all the updates since the 1st digital townhall held in March 2018.
Firstly, he spoke about the strides made by Mukti by opening a new branch in Jatragachi, Kolkata with the initiative taken by the TCS volunteers. He briefed on the seva activities of the Jatragachi centre. You can read more on the activities by visiting the weblink mentioned below.
Next, he was glad to talk about the extension of computer training in Sakhermore with the aim to bring vocational training to the end beneficiaries. He introduced Mr. Bijoy Halder a proud father of Mukti president Mr. Sankar Halder. He had been a silent volunteer of Mukti since inception. Mukti is blessed to have him as a mentor and he had inaugurated the Sakhermore branch. Our secretary also praised the senior members of Mukti – we are thankful for their wisdom.
Next, he was proud to mention about the Telegraph's True Legend Award conferred to Mukti president Mr. Sankar Halder. He thanked all in the Mukti family for the efforts.
Mukti president Mr. Sankar Halder was asked next to speak. He provided his personal view on the Award and dedicated the Award to all the Mukti members and beneficiaries. He was happy to mention about two other awards – Bharat Excellence Award and APJ Abdul Kalam Award. This is a strong testimonial of the noble work being done by Mukti.
Lastly, he touched upon the adulteration and malpractices on fish, chicken, vegetables and milk. He pleaded to all that we stand up to this and be ethical in our own jobs. We were delighted to know how Mukti had foreseen the ill-effects of pesticides and fertilizers more than a decade back. That is why Mukti have introduced to the villages benefits of organic farming. Organic farming which was introduced by Mukti 10 years back has reached a scale and through 'Mukti Fresh' initiative we can bring organic vegetables to all.
Last but not the least, he thanked all in Mukti family for the good work and plans to continue this digital townhall initiative in the future.
http://muktiweb.org/mukti%27s-new-chapter-at-newtown-kolkata-backed-by-tcs-volunteers
http://muktiweb.org/mukti-president-mr-sankar-halder-awarded-true-legends-2018-by-the-telegraph-in-association-with-national-insurance-company/