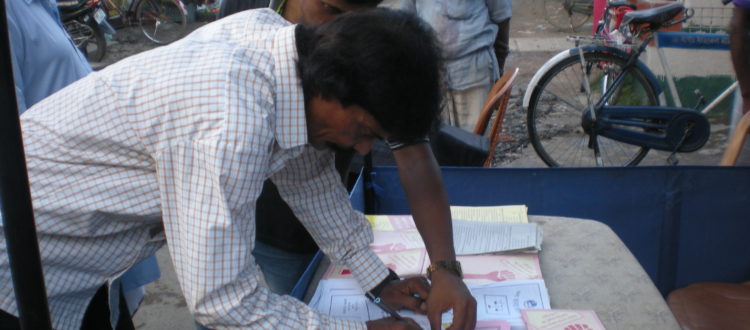 Mukti's RTI Campaign in Rural Bengal
Even after 70 years of India's independence, people living in the rural areas here have little or no knowledge about the Right to Information Act (RTI), and therefore they continue to suffer at the hands of unscrupulous and corrupt law-enforcing agencies and officials. MUKTI is spearheading campaigns for raising general RTI related awareness among the people of Sunderban area in rural Bengal. RTI is a statutory act of right that empowers Indian citizens to know any government functioning related information.
As part of the RTI awareness campaign, MUKTI is organizing street-plays, distributing leaflets, handouts and books about RTI, holding community meetings and other interactive sessions. MUKTI's RTI awareness campaigns plan to cover 10 Gram Panchayat areas of South 24 Parganas – Mathurapur Purba and Krishnachandrapur, Dakhin Roypur and Dakhin Gangadharpur, Champahati and South Garia, Kalikapur I and Kalikapur II, and Baharu and Dakshin Barasat. The entire campaign program is a three years agenda which has started from 2014-15 and expected to complete by end of 2017.
During these camps, people will be helped and trained in filing RTI applications. The common people by and large are gathering in the RTI Camps for getting information especially on their rights to access social security schemes – widow pension, old age pension, Antodaya Anna Yojana, Annapurna Yojana and ICDS, PDS, NREGA other schemes. MUKTI is encouraging Panchayet pradhans, community leaders, activists, and teachers to join the awareness camps because they can further facilitate their local people with any issues that may arise from filing RTI applications even after the camps are over.
Some people have grievances about their past pending RTI application outcomes, but MUKTI volunteers are trying to help build confidence among people that effective implementation of RTI may take some time. One should have faith and be patient to realize that the benefit of RTI act will see its fullest strength over next couple of years when people will see the outcomes. However, necessary trainings are required for drafting the RTI applications correctly to avoid rejections under any circumstances and MUKTI is aiding people to help them get the right to information they deserve under the act.