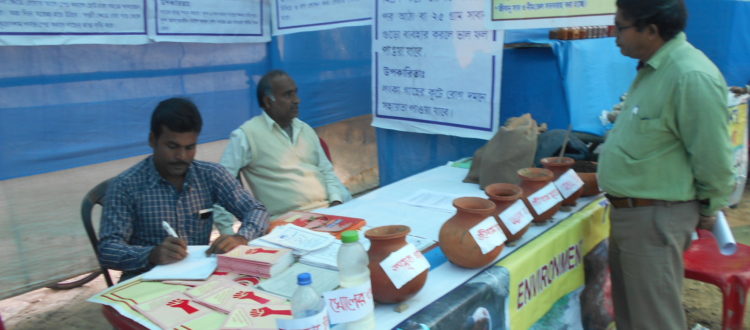 MUKTI'S participation in Agricultural Fair on December 2017
MUKTI had participated in Agriculture Fair from 20th to 22nd December 2017, at Companir Thek, Mathurapur, Raidighi. Several of MUKTI's projects such as SAM, RTI, MCDF projects participated in this fair. Some SHG members sold soft toys, jute ornaments, pickle and artificial flowers. People visited RTI stall to know more about their rights.
Mathurapur II BDO Ms. Swati Chakraborty, ADO Mr. Tanmoy Bhattacharya, and agricultural researcher Mr. Narayan Chandra Paul visited MUKTI's stall and had a detailed discussion about organic farming and its scope. MUKTI distributed free samples of bio manure; leaflets were distributed by MUKTI to enhance interest among farmers about organic agriculture. MUKTI participated in an agricultural quiz program organized by the authority and provided technical expertise to the interested farmers. People were curious to know about vermicomposting and many other techniques and materials used for sustainable agriculture. Participants felt content after participating in the fair.