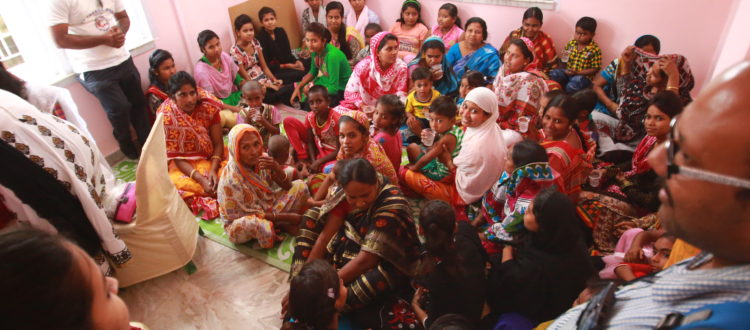 Mukti's New Chapter at Newtown Kolkata backed by TCS volunteers
"Mukti" centre at Jatragachi, Newtown in Kolkata is aimed at women empowerment, vocational computer training and spoken English classes to the needy community. Mukti trains women from the economically challenged background on making soft toys, junk jewelry etc.  with an objective of making them financially independent. This center would be run by a strong base of volunteers from Tata Consultancy Services (TCS).
The inaugural ceremony of "Mukti" centre at Jatragachi, New Town was held on 5th April 2018 at 4:30 p.m. The program commenced with the distribution of flower bouquets to the chief guest Mr. Sujit Paul (TCS-ITIS Kolkata Head) and other dignitaries like Mr. Supraj Ghosh, Mr. Biswajit Mitra, Mr. Asis Halder, Mr. Satyajit Roy and founder of Mukti, Mr. Sankar Halder. It was followed by lighting of lamp and inauguration of the new centre by the traditional ribbon cutting ceremony by service leads of TCS ITIS Kolkata. The program was followed by Rabindra Sangeet to grace the occasion. All the leaders in their address congratulated Mukti's new branch at Jatragachi and appreciated the good work of volunteers as well as inspired us to work hard so that it can reach great heights.  In the end, Mr. Asis Halder (Secretary of Mukti) offered a vote of thanks to all. He thanked all the invited guests and participants for gracing the occasion by their solemn presence and inspired us to take it forward. The program marked it conclusion by 6:00 pm.
The day of the inaugural ceremony saw the immense enthusiasm and thirst for being independent by the end beneficieries as they hurdled and waited for 4 long hours. They were motivated and showed interest to enroll to Mukti's development projects. Boys from the surrounding community volunteered themselves and spoke highly on Mukti. Through this center, Mukti visions to teach and make villagers independent.