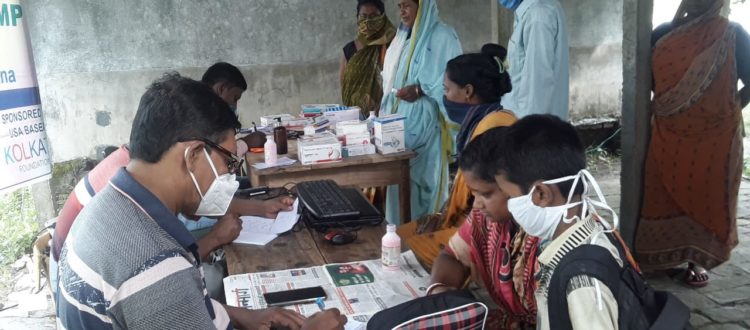 Medical Aid for the Amphan affected population by Mukti in Sunderban
Disaster has both acute and chronic effects on the physical and mental health of the affected population. In the aftermath of disaster injuries, spread of communicable diseases and worsening of non-communicable diseases is common.
Mukti in association with the donors, "Rural Health Care Foundation" and "Kolkata Foundation" set many medical camps to provide medical relief in the Amphan-affected areas of Sunderban.
Medical records were created and kept for all patients examined at the camps. A note of presenting complaints, provisional diagnosis as well as medicine prescribed and intervention done were recorded.
Mukti volunteers also make an effort to educate the patient and local public regarding prevention of infectious disease spread, safe drinking water, wearing masks and sanitization practices (Covid-19 pandemic) apart from treatment.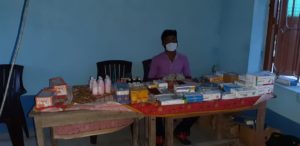 Village Name
Gram Panchayat
Block
Number of Patients Treated
Number of

Medicines

Prasadpur
Swami Vivekananda
Kakdwip
89
267
Bishalaxmipur
Budhakahli
Namkhana
88
264
Bishalaxmipur, Purano Shibmandir
Budhakhali
Namkhana
94

282

Koshtala
Muriganga I
Sagar
111
333
Shibpur
Dhablat
Sagar
102
306
Harinbari
Ramkarchawk
Sagar
133
399
Jibantala
Rudranagar
Sagar
60
180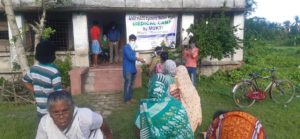 Jogendrapur
Kankandighi
Mathurapur II
81
243
Damkal Mondal Para
Nagendrapur
Mathurapur II
60

180
Damkal Halder Para
Nagendrapur
Mathurapur II
109
327
Dakaitmara
Krishnachandrapur
Mathurapur I
202
606
Nalua
Nalua
Mathurapur I
153
459
Dakshin Kashinagar (1No Geri)
Herembogopalpur
Patharpratima
32
96
Purbasurendranagar
Herembogopalpur
Patharpratima
53
159
Dakshin Shibgang
Dakshin Shibgang
Patharpratima
50
150
Dakshin Shibgang Natun Geri
Patharpratima
Patharpratima
74
222
Madhya Gurguria
Ghurghuria Bhubaneswari
Kultali
57
171
Purba Gurguria
Ghurghuria

Bhubanwswari

Kultali
61

183
Sankijahan
Gopal Gunj
Kultali
107
321
Kantamari
Deulbari debipur
Kultali
154
462
20 villages
15 GPs
7 Blocks
1870
6093