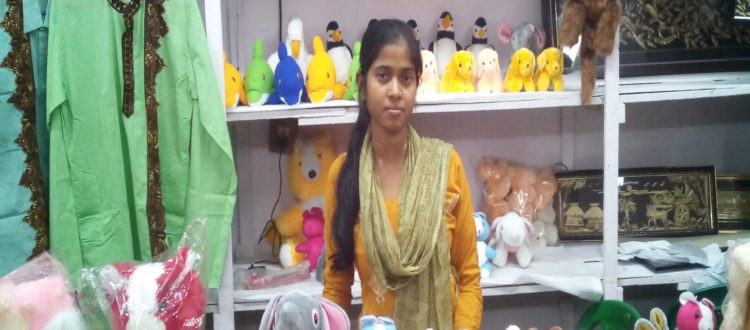 MCDF members' participation in state winter fairs
MUKTI had participated in West Bengal State Handicrafts Fair, 2016 – one of the largest handicraft fairs in India at Milan Mela ground, Science City, Kolkata. The fairground was open to the public from 1 pm to 9 pm daily during 18th Nov to 12th Dec 2016. More than 3500 handicraft artists participated in this annual fair organized by the Department of Small and Medium Enterprises, West Bengal Government.
MUKTI's SHG (Self-help Group) member Saraswati Chatterjee and his brother Madhab Chatterjee participated in this fair. They had been allotted 2 shops for their products. One was a 5'x5′ covered stall, and another 6'x6′ stall was an open space with a cluster of shops. Saraswati and Madhab prepared a large number of soft toys to attract buyers. Saraswati took doll making training courses organized by MCDF and became an expert in this profession. All the participants were provided INR 75 for food per day and one-way transport by West Bengal Government. They have earned almost INR 20,000 from this fair and are very much excited about it. This year MUKTI tried to register Saraswati Chatterjee and other SHG members of MCDF (MUKTI Community Development Fund) under Uddyog Adhar, an online national portal for registration of micro, small and medium Enterprises, through which the DIC (District Industrial Center) South 24pgs, assists in linking entrepreneurs with the Govt. sponsored market facilities -organized by the West Bengal Govt. Saraswati is passionate about her profession and already received an invitation to join Krishnanagar Mela, which will be held on 31st Dec 2016 to 14th January 2017. She has accepted the invitation and will participate in the fair with her collection.
MUKTI also participated in the 8th Rajya Sabala Mela, an initiative by West Bengal Government from 3rd December to 11th December at Central Park in Salt Lake, Kolkata. The fair promoted handicrafts and handloom products, food products and various other types of products made by members of SHGs across the State. Many of these self-help groups are run by and employ rural women, so the main purpose of this fair was empowering rural women, many of whom are now the key earners in their families.
As per the Advertisement in a leading newspaper regarding participation of Sabala Mela, MCDF had selected four willing SHG members Anima Sardar, Kalpana Mandal, Amuna Mandal & Bharati Hazra. After a thorough interview on 25th November 2016, two of them were selected by the Govt. officials. Bharati Hazra and Amuna Mandal were allotted one 10'x10′ shop and informed to collect letter of participation from the concerned office. The participants prepared and exhibited jute ornaments, wooden ornaments, home decor, jute side bags, ladies shoes, incense sticks, dry flowers, flower vases etc. An income of INR 10,000 was earned from this nine day long fair, which boosted the morale of the participants and MCDF's other SHG members. Participants were provided three times free meals, lodging facilities and local transportation cost. Bharati Hazra and Amuna Mandal expressed their contentment at becoming part of this fair and expressed their willingness to participate in coming years. Through participating in various handicraft fairs, SHGs have been successful in creating a thriving employment scenario in the rural regions of the state; and MUKTI has taken a pledge to increase awareness amongst the people about various procedures of self-employment, and to enable them to visualize changes in rural economy.
Please read more on the model of MCDF at www.muktiweb.org/mcdf/about_mcdf.php.