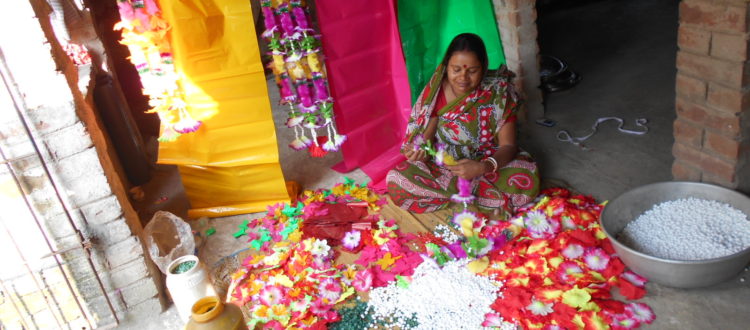 MCDF helped Shonamoni to explore multiple sources of income
Shonamoni Bhattacharya
Village and Post Office: Dumkol
Thana: Raidighi
District: South 24 Paraganas
Shonamoni Bhattacharya is associated with MCDF Mukti since last 2 years. She took two loans, one in 2015 and one in 2016, each of Rs.10000.  She opened a small readymade clothes business with the first loan. Later on she started a business to sell flowers, garlands etc. Her association with MCDF became very promising as she was able to open a shop where paper and thermocol flowers and decorative pieces are being sold.
Before taking the loan from MCDF her financial condition was very challenging. She was unable to ascertain a steady source of income. However, upon receiving the loans, and opening the shops, her financial difficulty has lessened, and she is able to lead a much better life.
Once she took a training of vermicompost at Mukti, however she was not able to implement this knowledge much to her financial gain. Later, upon obtaining the MCDF loans, she is able to get multiple sources of income, and currently her monthly income is nearly Rs.4000.
She has two children; an older son who studies in class 8, and a younger daughter studies in class 6.
MCDF program has helped Shonamoni to become a confident woman entrepreneur. Her success story is an example for other women of rural Self-Help group. Thanks to her social investor who lend the money to Shonamoni to achieve this success. If you want to be a social investor and be part of this success story please visit MCDF program page and our donation page.