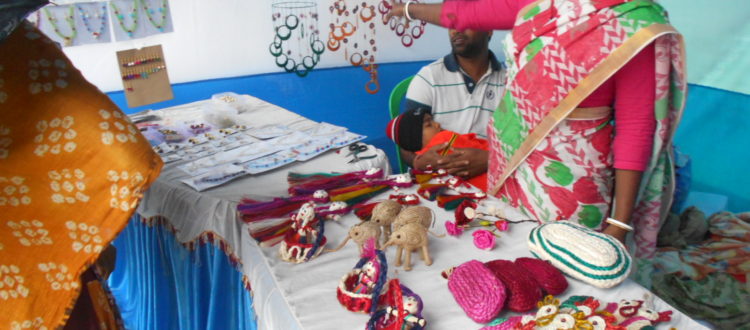 MCDF's participation in state winter fairs
MCDF members had participated in the Diamond Harbour Sabala Mela 2017, an initiative by West Bengal Government from 5th December to 12th December. The fair promoted handicrafts and handloom products, food products and various other types of products made by members of SHGs across the state. MCDF member Amuna Mondal was invited to participate in the fair. She sold jute ornaments from her stall. She earned nearly INR 10,000 from this fair, which is indeed an encouraging amount. She is very much motivated by the fair and will participate in Sonarpur Sabala Mela in this season.
MUKTI also participated in the West Bengal State Handicrafts Fair 2017, popularly known as Hastashilpa Mela at Kolkata Milan Mela premises. The fairground was open to the public from 1 pm to 9 pm daily during 18th Nov to 10th Dec 2017. MCDF member Saraswati Chatterjee's brother Madhab Chatterjee participated in this fair. They had prepared a large number of soft toys to attract buyers. Saraswati took doll making training courses organized by MCDF and became an expert in this profession. They have earned INR 15,000 from this fair and are very much excited about it. Madhab will participate in the Nadia Ranaghat handicraft fair in the winter season.
Through participation in various handicraft fairs, SHGs have been successful in creating a thriving employment scenario in the rural regions of the state; and MUKTI has taken a pledge to increase awareness amongst rural folks about self-employment.