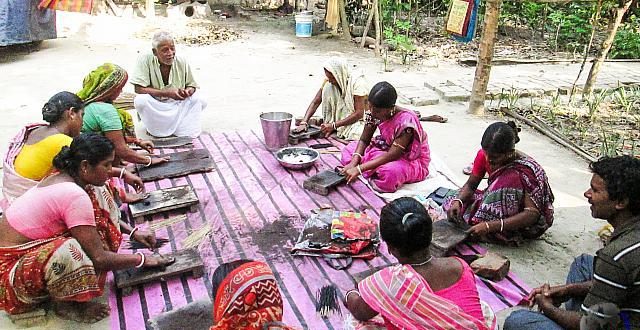 Incense Making- A Capacity Building Training Organized for Rural Women Entrepreneurs
Recently MCDF (Mukti Community Development Fund) organized incense making training program for women empowerment Self-Help groups (SHG) aimed at developing women entrepreneur.  The skill building training was given by a trainer from Dakshin Barasat. The training was attended by 10 village women from Raidighi block. The 10 day long training took place between 2nd to 11th May at Raidighi, Purba Sridharpur. All the trainee were serious about the learning process and learned the proportion of mixing 2-3 materials to make an incense stick.
The trainer Mr. Adhir Naskar mentioned speed is the most important factor for incense making. On last day of the training Mr. Naskar instructed and observed the procedure per hour basis. He expects the production will double in 3 to 4 months' time. Apart from ordinary incense, the woman entrepreneur members also learnt the art of making scented incense.
Mukti will provide 3 free training to the interested folks. Mukti encourages collecting the raw material at cheapest rate for maximizing the profit of the individual entrepreneurs. Trainees are passionate about the training and confident about their success in near future. However, Mukti is aware that the skills should be developed at par with the market level for better return.
We stay optimistic that newer training programs like this one with financial back-up aimed at women empowerment, hopefully reach higher ground and expand in every direction.
If you want to donate for this type of training cost for the women entrepreneur of rural India, please use our donation page and select appropriate donation option available.