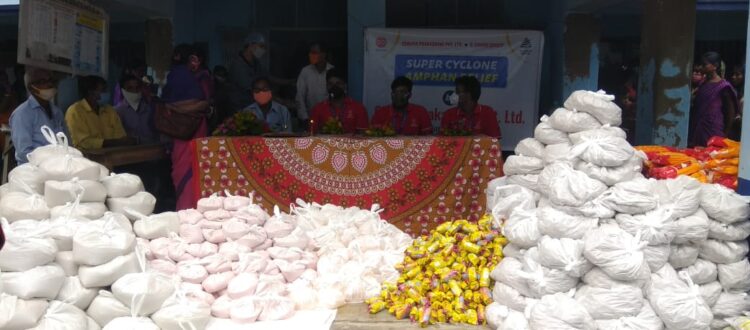 In Assistance with "Chhaya Prakasani" ,Mukti Distributed Grocery Kits to the SHG Members of Nagendrapur
Disasters and their impact on human lives are an important consideration for humanitarian professionals for restoring normalcy in the lives of survivors. Natural disaster always has an impact over the present and future lives of the survivors and the affected communities. Mukti has always focused on the efforts in the relief, rehabilitation and restoring lives of the survivors who have suffered.
From last three months, Mukti volunteers are working potentially to assists the livelihood of the Mukti SHG members so that they can get back to their normal life as soon as possible. 5240 SHG members are already getting benefited through the relief programs conducted by Mukti at the 10 Blocks of Mukti action area.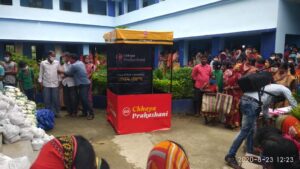 On 23rd August, 20 Mukti with assistance of "Chhaya Prakasani Pvt. Mtd." organized grocery kit distribution program at Hemantakumari High School under Nagendrapur Gram Panchayat for the Amphan and Covid-19 affected SHG members. The grocery kit which contained Rice- 5 Kg, Daal– 1 Kg, Oil- ½ Lt. , Biscuits – 4 Packets, Salt- 1 Kg, Soybean- 750 Gram and Sanitary napkin- 1 packet were distributed by the Mukti volunteers and the good samaritans of "Chhaya Prakasani". From Mukti's end, the members of the core committee Mr. Chittaranjan Halder, Mr. Panchugopal Halder, Mr. Subarna Kar, Mr. Palanchandra Kar  and head accountant Mr. Subrata Bhowmik were presented at the relief program.  Sridharpur SHG Forum body members planned a beneficiary list and issued token for 1036 women members of SHG.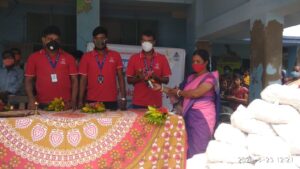 Mr. Arindam Paul , the associate marketing manager of Chhaya Prakasani said, "We are working for the victims of Amphan and Covd-19, who have lost their livelihood and to stand by their side. I was not aware about Mukti and came to know the name of the NGO through their website and contacted Mr. Sankar Halder (the founder of Mukti). It has been delayed and should have happened before, I am sorry for it. It's pleasure to see how systematically Mukti has arranged the distribution program. Mr. Subrata Bhowmik coordinated with me whenever I asked for. We are glad to stand by the side of these needy people. In future also we would love to work with Mukti. "
Mrs. Manasi Halder, the President of the SHG Forum Purba Sridharpur from the side of Mukti said," Mukti is delighted to have Chhaya Prakasani, such a great publishing company, by our side. They are helping us with their full effort. Mukti is grateful to Chhaya Prakasani that they have stretched their helping hands towards the deprived people. We have peacefully and successfully completed the distribution program for the contribution of the Mukti Volunteers."