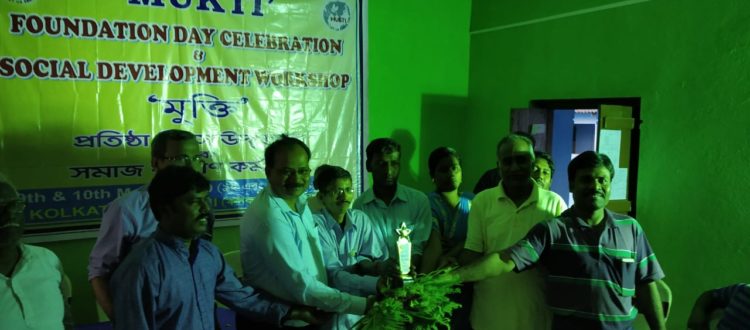 Foundation Day & Social Development Workshop
Since 2005, the year MUKTI got itself registered, it has always adhered to its purpose as a socio-economic development organization, tirelessly striving to provide a means for sustainable future to the impoverished people of the Sunderbans. This month we are glad to share the news of MUKTI's 14th Foundation Day, which we commemorated on 9th March 2019, at our city office in Kolkata. The celebration was resumed the next day, at the village office in Raidighi, South 24-Parganas (WB).
Both these days helped us acknowledge MUKTI's journey of evolution through years of new ventures, challenges, opportunities and togetherness. Hence, to add to the celebrations, a two-day Social Development Workshop was organized, in which the members of the Board of MUKTI, the Core Committee, honourable teachers, and representatives of our funding partner, the Association of India's Development (AID), were all invited as guests. Along with them, guest students, MCDF women, farmers and beneficiaries were also present.
The workshop was conducted to discuss and review all the projects of MUKTI – the Sustainable Agriculture Movement (SAM), MUKTI Institute of Technology (MIT), Talented Student Sponsorship (TSS), Book Bank, Go Green, Right to Information (RTI), MUKTI Community Development Fund (MCDF), and MUKTI Support School. It is worthy of note that the SAM Project was awarded the 'Best Exhibition Award 2019' at the end of the programme. All the project coordinators shared and revised their views on their respective projects, and assured that they are all progressing smoothly. Other events included discussions on different challenges and overcoming them, followed by a question-answer session where all relevant queries were voiced and answered. The guests also took an active part in sharing their experience in being a part of Mukti, inspiring many minds at the same time.
Lastly, the essence of team spirit in MUKTI was very well communicated by Mr Sankar Halder, who urged everyone to work together towards implementing the discussed plans, in order to secure an enriched future for MUKTI as well as the masses it works for.
All the photos of the programme are shared in the Mukti Gallery
https://muktiweb.org/gallery/album/foundation-day-social-development-workshop