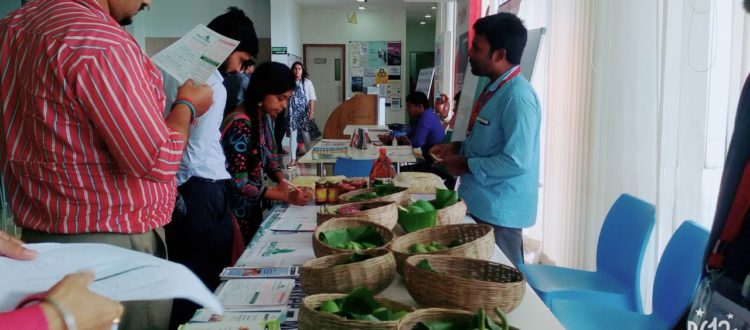 Exhibition on Organic vegetables & products at various TCS office in Kolkata
TCS management and HR team provided a great platform to Mukti to spread the awareness of organic products.
There were exhibitions organised by Mukti on various organic vegetables and products at TCS offices (Lords, Sabina, Gitanjali Park, & Ecospace) in Kolkata. Mukti volunteers and farmers from Sunderban exhibited varieties of organic vegetables & about 15 organic products for 4 consecutive days starting from 25th June, 2018 to 29th June, 2018.
The TCS employees were very eager and enthusiastic to know about organic farming, thus approximately 350 employees shared their name and contact details to receive future communication from Mukti. There were many employees who came forward and spoke to Mukti farmers at length, to gain knowledge on benefits of organic products.
At present many TCS employees are placing orders for organic vegetables through Whatsapp groups. Their orders are being delivered by Mukti employees efficiently. This initiative taken by Mukti was a great success.