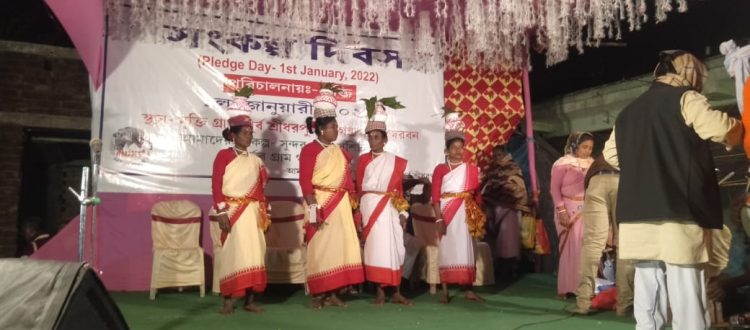 Cultural Program at "Sankalpa Diwas", 2022
At the end of the main program, the cultural program started at 6 pm. Mukti staff, volunteers and local villagers participated in the 2 hours programs. Santali dance, Santali song and two one-act plays had been performed by the performers.
Santali dance- The dance was performed by both the men and women of the Santhali tribe. There were 4 female and 1 male dancer, 2 female singers and musicians. Women were wearing red-bordered white saree and the male dancer was dressed up in dhoti and turban. While performing the women had put pots on their heads and the male dancer was playing Dhol. They were moving to the beats of music. The musicians were playing Harmonium, Gong and Flute.
Santali Dance on the Occasion of Sankalpa Diwas (1st January), 2022 at Purba Sridharpur
One–act play- Two one-act plays were performed on the day. The plays- "Naagpas" and "Harmana" were written produced, directed and starring by Mukti members. 12 Mukti members participated in these acts. Two separate groups of men and women performed the play. These plays highlight the two social issues – child marriage and school dropouts – that have a detrimental effect on society and people. The main aim of these two plays was to make people aware of the ill effects of these norms on society.
The audience appreciated and enjoyed the programs. They were overwhelmed by such pleasant performances. The applause of the audience showed that how much they cherished the attempt of Mukti.