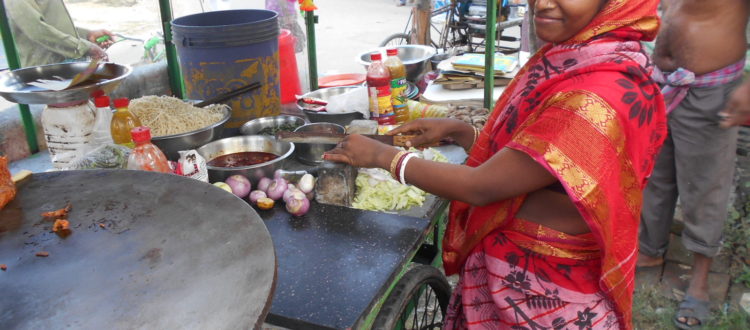 A woman entrepreneur Dipali Bhandari's story
DIPALI BHANDARI
Village and Post Office: Dumkol
Thana: Raidighi
District: 24 South Parganas
Dipali is associated with MCDF since March 2013. She took the first loan on January 2014, an amount of Rs.5000, to open a snack counter which sells eggrolls and noodles. Her second loan was on October 2014, an amount of Rs. 10,000, with which she bought a van. Her third loan is on May 2015, an amount of Rs.10000, and with that money she strengthened her business more. Her fourth loan is on July 2016 an amount of Rs.10000, again for her business.
She does not have any agricultural land, her husband used to work as a daily wage earner and they had tremendous financial hardship. Upon receiving the loan, they can start the business and thus their situation has improved. Currently their monthly income is Rs.2500 to Rs.3000. Her husband still works as a daily wager in the daytime and in the evening, he helps in the business. Hence, their income is much more stable now.
Before receiving the loan their life was full of hardship and day to day living was a challenge. Dipali was not able to contribute financially. Hhowever, now she is indeed a true companion to her husband and they both have joined hands in earning a decent living.
Her family constitutes of four members. Her older son is 6 years old and studies in class 1, and her younger son is 1 year old.
MCDF program has helped Dipali to become a confident woman entrepreneur. Her success story is an example for other women of rural Self-Help group. Thanks to her social investor who lend the money to Shonamoni to achieve this success. If you want to be a social investor and be part of this success story please visit MCDF program page and our donation page.