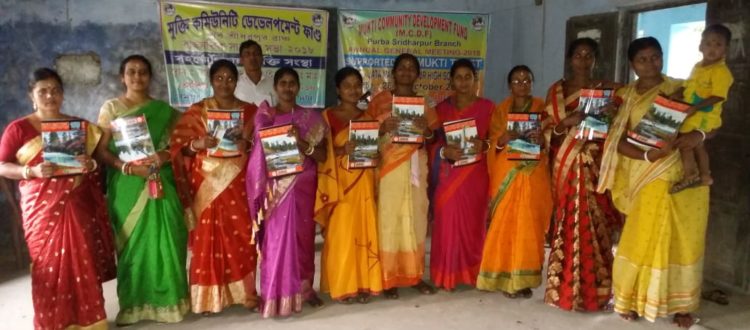 MCDF Annual General Meeting at Purbosridharpur Branch
Mukti believes in respecting all voices and good governance. Every year Mukti Community Development Fund (MCDF) conducts an Annual Meeting with the Self-Help Group (SHG) members in different branches of MCDF. The main objective of the meeting is to dissolve the old executive committee & form a new committee.
Purbosridharpur is a branch of MCDF in Raidighi, South 24 Paraganas. 1,764 women in this branch formed 171 Self Help Groups (SHG). High Performers from the SHGs form an Executive Committee every year. The committee members are assigned tasks such as –motivate the villagers to form groups, disbursement of loans to suitable candidates, timely recovery of loan instalments, verify that the loans are used in appropriately etc. In 2018 loans were disbursed to 252 members in Purbosridharpur branch. The overall loan recovery rate has been 93%.
On October 28, 2018 an Annual General Meeting was organised in the Purbosridharpur branch. The chief guests were Pradhan (head) of Nagendrapur Gram Panchayat (GP), Kankandighi G.P, Mathurapur 2 Block Panchayat Samiti Member, Mukti Working committee members & President of Mukti SHGs. A total 196 members attended this meeting.  Addressing the gathering Mr. Raghunath Bairagi, project lead for MCDF, explained – the need of Self Help Groups, how to form and operate a perfect group, ways to establish good coordination among the members in the group, etc. The view of other members regarding last year's performance was also shared in the meeting. Lastly, the old committee was dissolved, and the new committee members were introduced.
The meeting concluded after an awards ceremony – Among the 171 Sobha Netri (group leaders) 10 Sobha Netri whose micro businesses performed well throughout the year were given prizes. A trainer was also recognised for providing exceptional quality of training to the MCDF cadres.