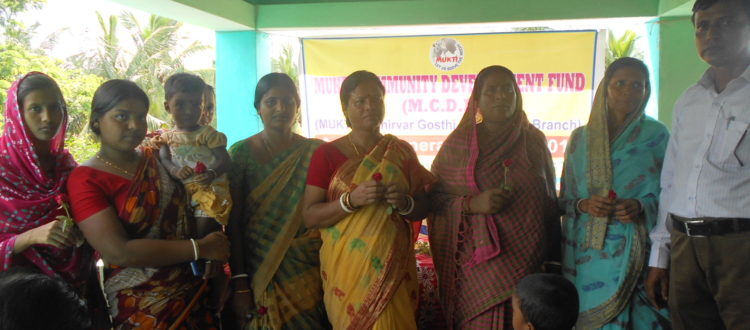 Annual General Meeting of MCDF – Sonatikari Branch
Sonatikari, a village in the Sunderban in West Bengal is where the Mukti Community Development Fund (MCDF) project has a branch. The Self Help Group (SHG) at Sonatikari branch organised an Annual General Meeting on 15th July, 2018. The objective of the AGM was to dissolve old Executive Committee and form the new committee. Srinolgora Gram Panchayat pradhan (Head of local government in the village)  and ex-Pradhan Mihir Baidya were the chief guests of the event. Other special guests included Sri Bijoy Haldar from Purbosridharpur and SHG members from Sonatikari Branch. 727 members (rural women) of this SHG were present in the AGM. The meeting was conducted by members of old forum committee, branch manager Chandan Mallick and Mukti advisory member Sri Raghunath Bairagi.
The guests were welcomed with a flower bouquet.  A classical dance program and poem recitation by children marked the inauguration of the event. A speech was given by one of the committee member Smt. Chanda Pradhan. She thanked Mukti on inspiring the rural women, providing training on micro business and was grateful on linking their products to the market and possible buyers. Next, the old committee was dissolved. Unanimously the new committee members were selected. Finally, the members greeted their new Executive Committee which was created by voting of the SHG members. The meeting was concluded with a speech from the new committee member head Smt. Neelima Sikari.