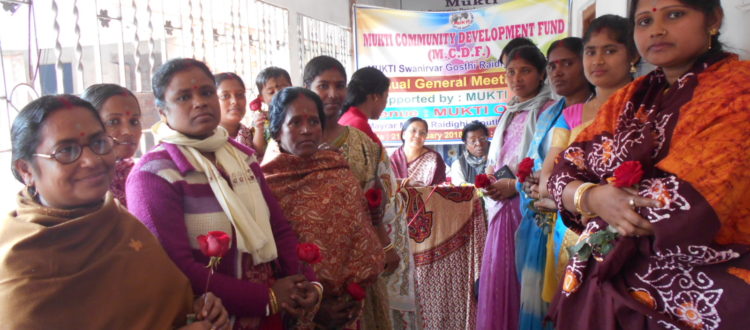 Annual General Meeting of MCDF – Raidighi Branch
Raidighi, a village in the Sunderbans in West Bengal was one of the earliest branches of the Mukti Community Development Fund (MCDF) project. Recently, the Self Help Group (SHG) at Raidighi branch concluded the annual general meeting. The objective of the Radidighi AGM was to dissolve old Executive Committee and form the new committee. The AGM took place on 21st January 2018 at Raidighi Moirar Mahal Office. Smt. Bhaswati Rai was the chief guest .Other special guests included Sri Bijoy Haldar from Purbosridharpur, Sri Rajanikanta from Raidighi, Sri Haradhan Haldar and SHG members from Kultoli Branch. 80 members were present in the AGM. The meeting was conducted by members of old forum committee, branch manager Smt. Sutapa Mondol and Mukti advisory Sri Raghunath Bairagi.
The guests were welcomed by a flower bouquet and a classical dance program. Usefulness of micro finance and impact created by MCDF were mentioned in their respective lectures by  Smt. Tanima Mondol member of old forum, Sri  Raghunath Bairagi, Sri Anupam Mondol a special friend of MCDF and Tamosi Rai. Special award was given to the supporters of MCDF, looking forward for the same friendly relation with MCDF in future. Old committee was dissolved. Finally, the members greeted their new Executive Committee which was created by voting of SHG members. The meeting was concluded with a speech from the new committee member head.
Lunch was served at the end of the programme to all participants.