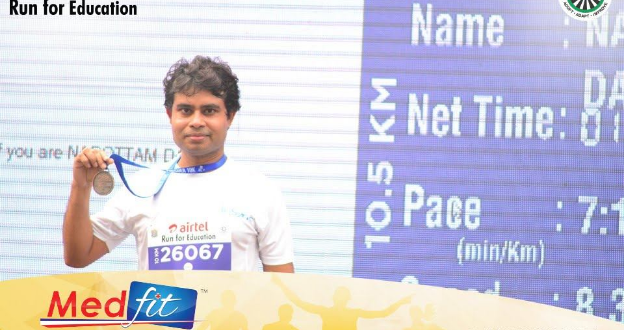 Narottam Inspiring Others to Stay Healthy and Build a Healthy Society for All
By profession Narottam Das is a software engineer, working in a product-based company named InSync Solutions Ltd, Kolkata, India.
Being into IT profession and a highly civilized life, his physical activity is not sufficient to maintain a good health. Therefore, he always tries to have some quick solution to be fit and fine. He finds the running is the quickest and effective way to be fit and active. However, unless it becomes a habit, any physical exercise may seem to be boring soon. Therefore, he always thinks how to make these activities interesting as well. To make the running interesting, he thinks we should participate in the various competitions like the marathon, annual sports, etc.
So far, he has participated in many such events and won prizes, medals, and certificates too. To him these events are like festivals and preparing for them is really an amazing experience.
On the other hand, as per Narottam, if these runs can be associated with some social causes then nothing can be great like that. So he has been associating himself with philanthropic events and organizations like Run-For-Education, Mukti, etc. for the last couple of years to support the needy people to grow at per rest of the society.
Please help Narottam to fulfill his target of raising funds for the needy people of Sunderban.
Support His Cause