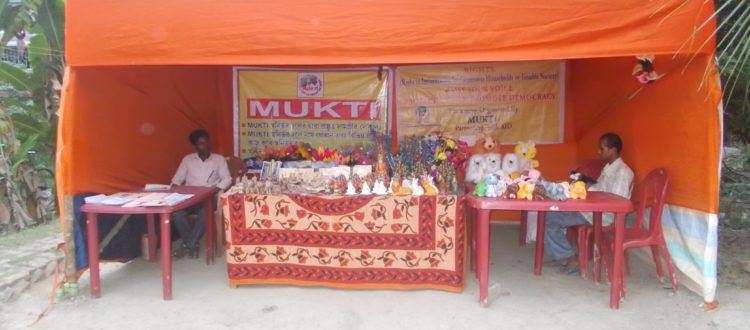 MUKTI's participation in village fair
A "mela" (fair), along with "Puja" (worship) was organized this year from 2nd to 4th April at the Purbasridharpur village temple. This popular annual festival of Purbasridharpur is mostly known as 'Asan Bibir Mela'. Large group of people from nearby villages gathered and took part in the mela. There were numerous stalls, where various items were sold and the villagers participated in the occasion with great interest.
Considering the high appreciation, interest, and need of the villagers, MUKTI SHG (self-help group) promoted MCDF (MUKTI Community Development Fund) and sold a wide range of products in the stalls of the mela. These stalls sold products such as dry flower, incense sticks, pickles, bori, soft toys, earthen clay toys from Krishnanagar etc. A standalone R.T.I (Right to Information) stall was also established in the mela.
MUKTI made use of the fun and festive occasion to make people aware of MUKTI's vision, the various initiatives of M.C.D.F and its associated benefits, and the essentials of R.T.I and its practical advantages and implications. It was explained how the villagers can gain and prosper by their association with initiatives like R.T.I and organizations like MUKTI.
.