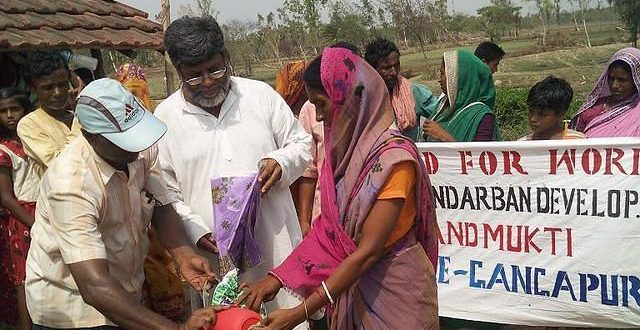 Cyclone Aila: Relief and Rehabilitation – What MUKTI Did!
Dry Food Help
MUKTI immediately joined the disaster relief effort. They started moving the stranded people in affected areas to higher grounds. MUKTI distributed dry food and medicines to thousands of people in Brajaballavpur, Namkhana, Haripur, Brajaballavpur GP, Kultali Block 19 Number Bhasa (Bhubaneswari) and Amtala GP. They also distributed milk powder to approximately 350 mothers with children ages between 0 to 12 months.
Cooked Food Help
They started running food kitchen at different centers. They provided cooked food to 3500 affected villagers daily. MUKTI also provided some relief work at the Amtala GP. The sponsored one day food and meal for approximately 250 villagers.
Medicines, Clothes, Tarpaulin
MUKTI donated medicines for 200 persons to a government run medical center and also donated clothes for 50 persons and distributed to the needy people in the affected villages. They organized camps in 19 number and Bhasa villages and distributed clothes to the villagers. More than 1700 people were benefited with this program.
MUKTI distributed 300 canvas sheets in Samanta Para and Damkal villages in Nagendrapur. They encouraged people who were staying in the temporary relief centers for more than a week to return to their own land and build temporary shelters with the tripals provided. They tried to help displaced people back to their home with food for few days. 200 mosquito nets were given to victims in Nandakumarpur, Mathurapur-II.
Food for Work
MUKTI successfully finished 'Food for work' program and reconstructed river embankment at Dakhin Kashi Nagar in Herabagopalpur GP, Kuyamuri, Purba Chintamonipur, Damakal Ganga Ghat in Nagendraopur GP, Banashyamnagar GP and Amtali GP. Villagers worked for the reconstruction so that they can stay safe from the flood during the next high tide. MUKTI provided food to all the people who worked for the project.